World Book Day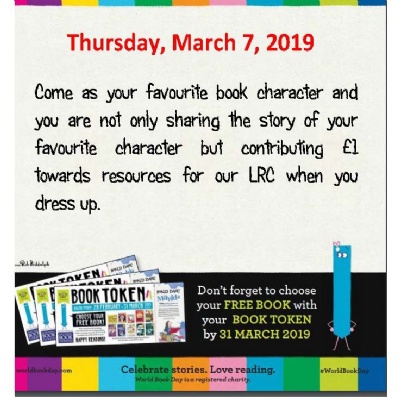 Students and staff at SHS are celebrating World Book Day by dressing up in their favourite book character to raise funds for resources for the LRC.
World Book Day is Thursday 7 March 2019 and the theme is 'Share a Story'. This year, I am pleased to inform you, we are celebrating the day by having all students and staff dress up as their favourite book characters and ask for a donation of £1 for dressing up. The £1 contribution will go towards purchasing resources for our LRC. This is not compulsory but it will be lovely to see students in their costumes and dressing up really encourages them to talk to each other about their favourite characters and stories.
With literacy being such a crucial part of the new GCSE exams, we wish to raise its profile across the school with a celebration of this event as well as other calendared activities. Here at school, staff will share their favourite book with students in every class and students will participate in a reading treasure hunt during break and lunch.
Readathon Challenge
Students will also participate in a Readathon challenge (a whole school reading drive) leading up to our book fair scheduled for Thursday 28 March 2019 to Wednesday 3 April 2019. They will choose an age appropriate book they wish to read - from comics to classics. They will receive sponsor cards and bookmarks and seek sponsorship per book read. It is our intention to increase students' reading age year on year and the more they read the more they are likely to improve. The money raised will be donated to the Read for Good Charity - a charity that provides books and storytellers to all of the UK's major children's hospitals and funds projects encouraging children to read for fun.
Thank you for your continued support and we look forward to an exciting day.
Mrs C Pilarchie
3rd in English / Whole School Literacy Co-ordinator