A Level & BTEC Results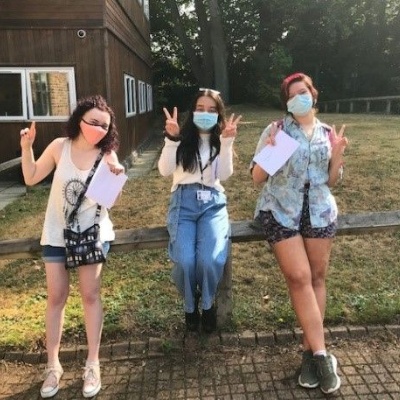 Outstanding attainment was achieved across the full range of subjects offered, with students achieving multiple top grades.
Ms Doherty Vice Principal stated, "It has been a genuine privilege to work with each and every student as they have progressed through the Sixth Form; they are a wonderful group of incredibly talented and hard-working young people. Our Sixth Form is very proud of the ethos to support and foster excellence and ambition, and our students have not only risen to this challenge but adopted this approach with one another especially through such challenging times. This year has been unprecedented and there has been a great deal of uncertainty, which our young people have had to cope with; they have done this with resilience and maturity. We are happy to report that the A level and BTEC results are generally in line with teacher predictions and that our students are now be able to move on with their lives and start university courses, higher apprenticeships and enter the world of work. We are delighted to say that over 40% of students who studied A Levels achieved A*-B grades with a 99% pass rate. The BTEC results were equally pleasing with 100% pass rate and 87% achieving Distinction* – Merit. Our students have done exceptionally well, and I am in no doubt that the success of this is down to their hard work and commitment, along with the dedication of the teachers and staff at Shirley High School. It is especially gratifying to note that our students have made excellent progress on their level 3 programmes, not only are the headline outcomes impressive but students have done tremendously well against their target grades and the dreadful circumstances they have faced".
Mr Myton Principal stated, "The period of time we are going through as a global community cannot be underestimated. The results awarded today recognise the progress our students have made and provides them with the opportunity to go out and shape the future. As a school, we have made significant changes over the last 12 months and we were confident that these changes would have been reflected in the academic outcomes of our students. I am extremely proud and feel privileged to have worked with this cohort during my first year at Shirley High School and know that both students and staff have worked so hard during these challenging times. As a school, we were very much looking forward to this year's exams, so that our students could demonstrate their ability and potential. We are delighted that so many have achieved the grades they deserve and that the exam regulators have agreed with our evidence and professional judgement. As the dust settles on these results, we will continue to support our students to ensure they are able to make the next step in their educational journey and will appeal any grades that do not reflect the handwork, dedication and potential of our amazing students."
Outstanding attainment was achieved across the full range of subjects offered, with the following students achieving multiple top grades;
Hayley P with A*A*A A in Biology, Chemistry, Geography and Maths is going on to study Natural Sciences at Exeter
Faye B with A A A A in Biology, Chemistry, Maths and Further Maths is going on to study Mathematics at Exeter
Eve E who achieved Dist*Dist*Dist* in Public Services and C in A level Psychology is going on to read History and Politics at university.