GCSE results 2021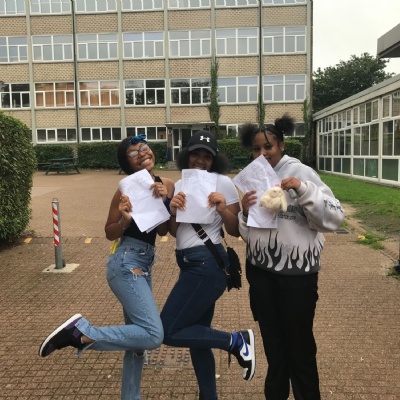 Success through resilience
We are extremely proud of all our students collecting their GCSE results today. They, like all students across the country have been faced with so many challenges over the last 18 months but they have shown the values that underpin our school and have achieved fantastic results that reflect all their hard work and commitment to their education.
Mr Hurst Vice-Principal and Phase Leader stated, "Our year 11 students have constantly embraced and adapted to the changing demands that have been placed upon them and have worked extremely hard throughout their GCSE journey. I am pleased with the way they approached their assessments with diligence and determination. It has been an absolute pleasure to work with this year group, who have responded so positively to everything we offered them; Saturday school, twilight learning, on-line tutoring, group seminars and workshops. It has been a privilege to work with such a talented group of students and such a dedicated and hardworking team of teachers.
Head of Year 11 Mr Rayner went on to say, "As Head of Year I am so proud of the resilience and determination shown, so many have now given themselves the opportunities to succeed in the next stages of their educational journey. They have achieved so well under the hardest circumstances.
Principal Mr Myton was delighted for the students, and said, "What they have gone through cannot be understated, they deserve the results they have achieved and we couldn't be more proud of them. Seeing so many happy faces is part of the beauty of education and I would like to thank the staff of this wonderful school for all they do for our amazing students. As a school, we will continue to strive for excellence in all we do and remain fully committed to our plans and investment for further whole school improvement. I wish all students success in the future and I am delighted that so many have chosen to continue their educational journey with us here at Shirley High School.
Some stand out grades where achieved by Jessica gaining 6 grade 9s', Lema, 5 grade 9s' and 4 grade 8s' and Jasmine and Saiveer achieving 5 grade 9s' and all other grades of 7 and above.
#weareshirley