Achievement
Motto
Shirley High's motto is "Striving for Excellence" and we strive to be excellent and achieve in everything we do.
Results 2021: GCSE and 6th Form
We are delighted that over the last 3 years our results have significantly improved and the progress we have made, identifies us as one of the most improved schools in the borough of Croydon. Even during the difficulties of a pandemic, we are extremely proud of our GCSE performance which has provided greater opportunities for our students. Those achieving strong and standard passes in English and Maths has improved, as has our EBacc performance. There has also been a rise in the selection of vocational courses and positive outcomes. These results reinforce the ambition of our curriculum and demonstrate its broad nature. We are committed to ensuring that all students can engage in subjects and learning that ignite their passion and provides them with the skills and knowledge that truly prepares them for the next stage of their educational journey.
We are delighted that so many of our Year 11 students have enrolled into our 6th form and extremely proud of all our Year 13 students who headed off to university, many the first in their families to do so. All students that applied for university received a place with 10% heading to Russell group universities and a number of students securing higher-level apprenticeship courses.
Since 2019 we have redesigned and reshaped teaching and learning at our school and we are relentlessly embedding our new values and learning journey which underpin all the significant actions we are taking. We look forward to sharing further information of our successes as we build on the momentum of being one of the most improved schools in the borough.
Due to COVID-19 the method of examinations nationally has been considerably different since 2019, which was the last externally DfE validated data for schools. These results show our significant improvement but not the further strides we have made at both our GCSE and Post-16 qualifications.
2019 DATA (This reflects the last externally validated data for the school and is not reflective on the excellent student performance in 2020 and 2021)
https://www.compare-school-performance.service.gov.uk/school/137772/shirley-high-school-performing-arts-college/secondary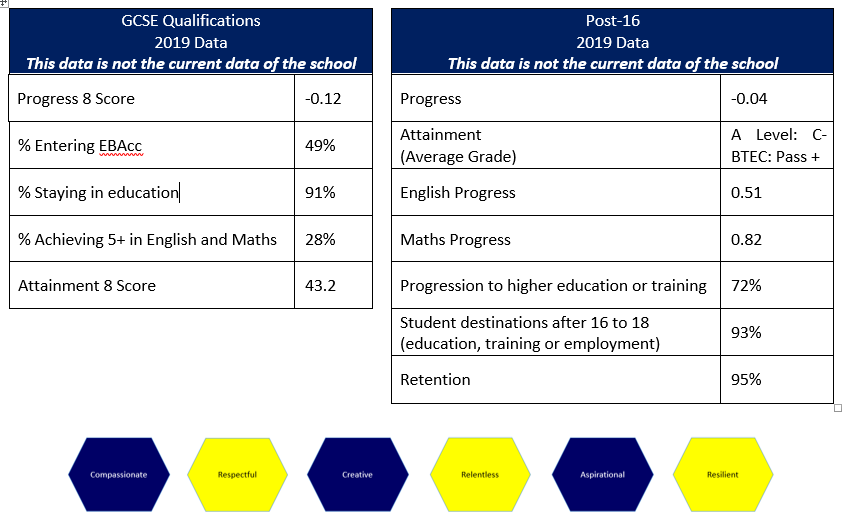 T Myton
Principal
Please feel free to have a read through our latest Ofsted Report.